The main motive chosen for this series of tags is that of caution or warning signs as used in several countries. The choice of words for best friends here is of course ironical, an additonal winking smiley shows that. The six motives available are Thorns, Ticks, Mosquitos, Dog Poo, Boars and Cache Thieves or Geomuggles.
For Geocachers it is quite common to actually face one or more of these dangers, as they are present on many cache hunts. And if to you meeting any of these almost feels like meeting an old friend, then that is an indication that you spend to much time caching! :-)
The tags of this series have a Geocaching tracking code and can be used just like Geocaching Travel Bugs. Geocachers can log them on the geocaching.com web page.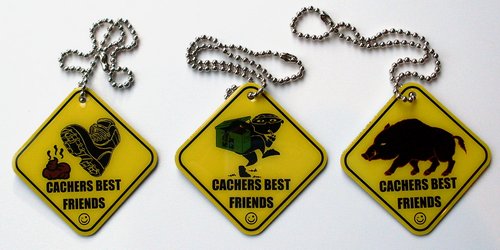 Best Friends Dealer
Deutschland

UK

France

Netherlands